Easytherm 2 is a compact induction heater that, like the smaller ET1, can heat bearings with a minimum ID ø 10mm. The range of the Easytherm 2 is much larger however, it can heat up bearings with a max. mass of 40 kg and max. OD ø 290mm. Even with this wide range of possibilities our Easytherm 2 is very portable, due to its low weight. In the sturdy carrying case (optional), this induction heater is the ideal mobile service tool. The Easytherm 2 is a more efficient and versatile alternative to other portable solutions in the market. Very popular as a standard tool on ships.
The following yokes are included with Easytherm 2:
14 x 14, 25 x 24, 40 x 38. Additional yoke sizes are listed in our Datasheet. A magnetic temperature sensor with a length of 500 mm is included as well.
SPECIFICATIONS
| | |
| --- | --- |
| Voltage | 115 / 230 V |
| Frequency | 50 / 60 Hz |
| Max. current | 13 A |
| Weight excl. yoke(s) | 14 kg |
| Footprint | 200 x 340 mm |
| Max. Temperature | 240 °C / 464 °F |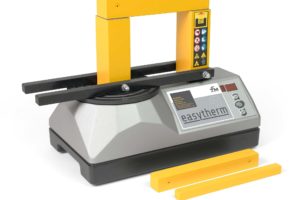 Yokes: 14 x 14, 25 x 24, 40 x 38
Temp. Sensor: 500 mm
Optional: Carrying Case
Contact us