We offer you the most efficient low frequency heaters to date. SureTHERM covers a wide range of applications with maximum control for a gradual and uniform heating process. When you order one of our SureTHERM heaters during our introduction offer period you will receive the following items, free of charge!
Second sensor
Tempered glass screen protector
Software for documenting graphs
2-year extended warranty
---
Sure – The heating process is monitored by one or two sensors. Ensuring accurate and safe heating of the workpiece.
Clean – The heat is transferred directly into the workpiece, as efficient as possible, as clean as possible.
Safe – Good working conditions – quiet, safe and clean. Safe for the operators as well as the material integrity.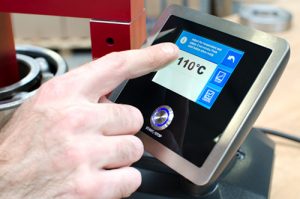 Easy – Intuitive touchscreen controls with real-time feedback, ergonomically friendly design, large operation area, low maintenance.
Efficient – Heating times are short, increasing production and reducing labor costs. Heating precisely and only what is needed.
Sure, clean, safe, easy and efficient. The list of advantages seems to go on and on, doesn't it?
---
Heating materials the right way takes some practice. Let us help you find the right tool for your application. Order now to be sure that you will receive a free second temperature sensor, a free tempered glass screen protector, free software for documenting heating cycle graphs and free 2-year extended warranty with your SureTHERM order – This special introduction offer is for a limited time only!
For more information on SureTHERM you can visit the SureTHERM product pages, look for your local distributor or contact us!
Introduction offer valid until 30 april 2017.