As the global energy sector shifts from fossil-based systems to renewable energy sources, we believe we can play our part with our custom solutions.
Along with the current rise in products containing electric motors, manufacturers are looking for alternative methods for a more efficient production process.
Statortherm by TM Induction Heating is a low-frequency induction heating solution, which garantuees an even and tension-free heating cycle.
It is common knowledge that stator house heating is the most effective method when assembling stator and stator housing during the production of electric motors. This eliminates the damage done with cold pressing. Cold pressing fans out the stator's laminations which makes the electric motor noisier and less efficient.
Statortherm is a concept we've refined for 20+ years, as a perfect solution for manufacturers of electric motors . The heating process is efficient because the housing is the heating element, direct heating with minimal losses. Select an aspect of a Statortherm below to learn more about the benefits and workings of the device:
Superior Efficiency
With Statortherm it takes 64 seconds for stator housing 132M (weight: 4.8 kilograms) to reach a temperature of 180°C. The total energy consumption for this heating cycle is only 376 watts (@ 400V – 53A – 50Hz). Using Statortherm, you can save up to 63% on your energy consumption.
Still using an oven?
The most common heating method used for stator housings is an oven, either powered by gas or electric. An oven is relatively inefficient; an electric element or gas pipe heats the air in the oven, the air in turn heats the housing.
Several housings are placed in a preheated oven, once temperature is reached the door opens and the housings are slid over the stator one by one.
Let's continue with our example for a stator housing 132M:
In a pre-heated oven to 250°C with an average consumption of 4000 watts, it takes 880 seconds to get the same housing to a temperature of 180°C. It takes 977 watts per heating cycle. This calculation does not include the energy consumption for pre-heating. Results may vary, we're happy to help you calculate your possible savings using Statortherm instead of an oven.
Maximum Flexibility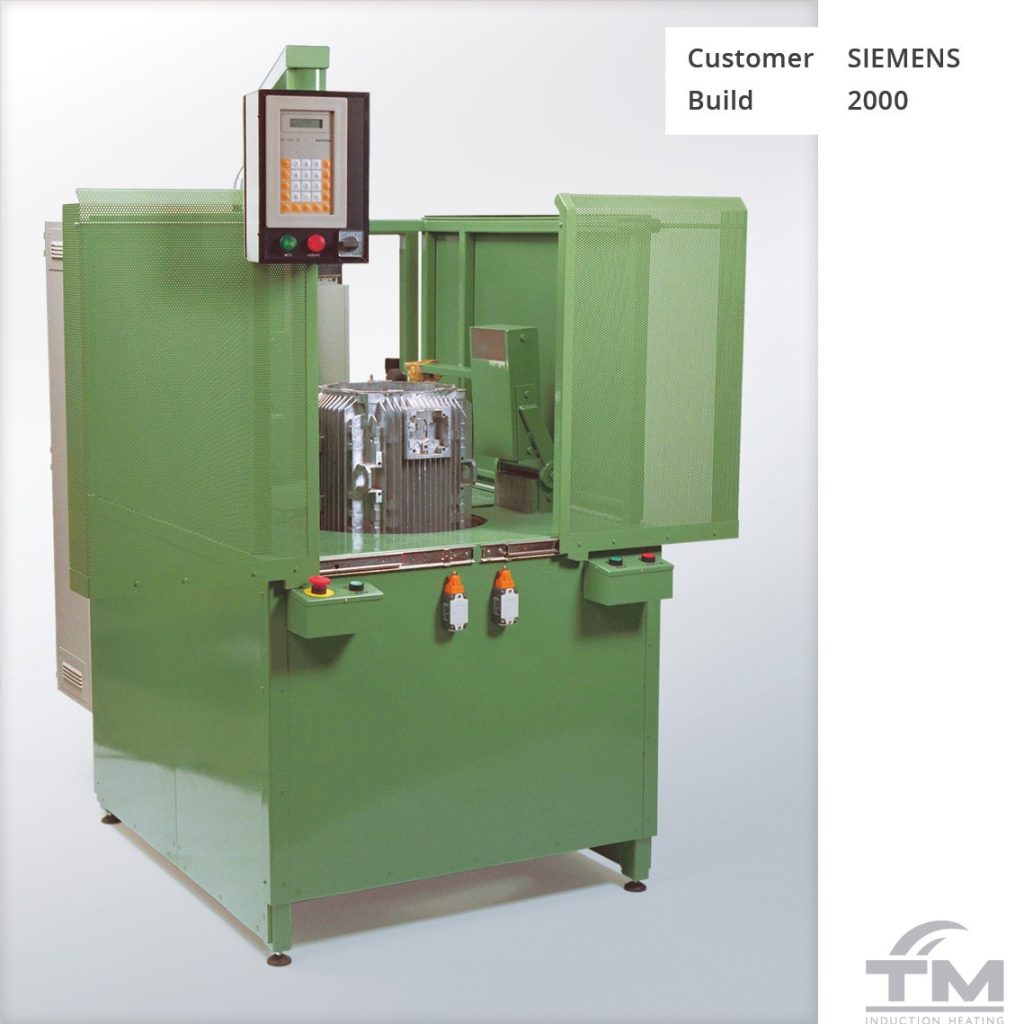 Proven concept
and technology
for 20+ years
Pictured here are one of our earliest and one of our latest Statortherm devices. Similar on the outside, but the induction heater built in 2021 contains countless changes improving the overall workflow, flexibility and safety.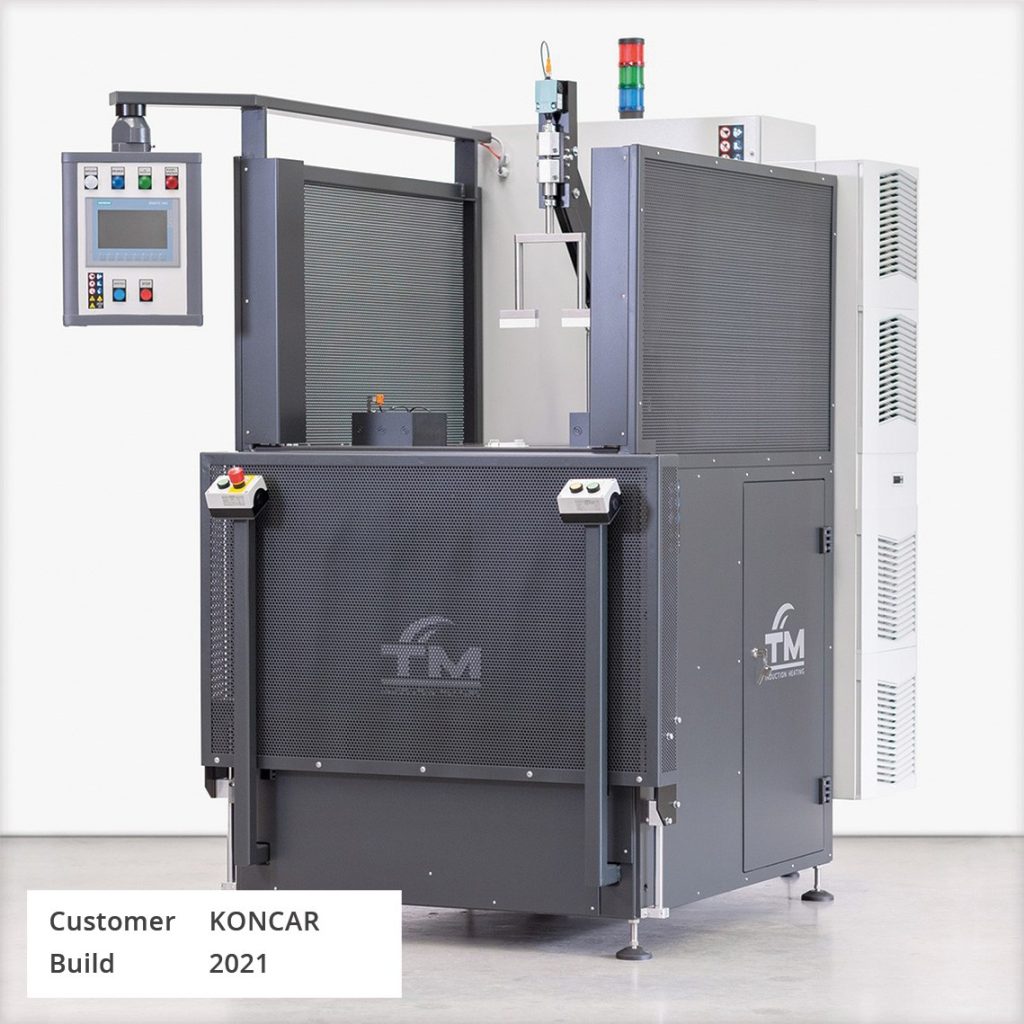 In a Statortherm, different housing sizes can be heated without conversion. Housings ranging from size 56 to 225 can be heated. With the right configuration, both iron and aluminum housings can be heated with one device as well.
Our Statortherm has a small footprint. The maximum dimensions of our Statortherm are only 120 x 180 x 200 cm, making it easy to implement in an existing production line (or scale up in the future by adding a second Statortherm).
Continuous Workflow
As mentioned, different housing sizes can be heated with one device. The stepped platform enables the user to heat different housing sizes without any conversion.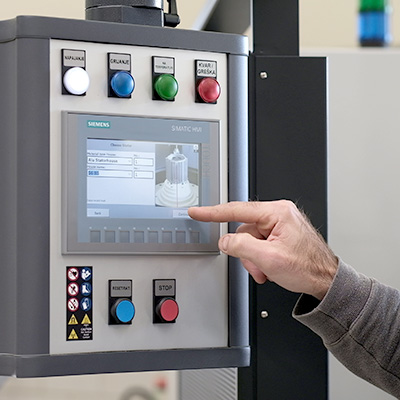 The user selects the specific housing size and material type. The user places the housing and starts the heating cycle. The device is programmed with the corresponding settings for the workpiece.

The housing is lowered into the coil automatically.
After reaching the set temperature, the housing rises and is ready for assembly. The next stator housing can be heated.
---
Our Clients

---
Interested?
Do you want to know more about Statortherm, or have any specific questions for us? Don't hesitate to contact us using the contact form.