"Business optimism is sky high"
TM Induction Heating has a base in the United States of America. Recent events there have the whole world mesmerized. Time to have a chat with Rick Trichka, Vice President of Sales in the US. Not just to ask him how things are developing, but to learn how businesses in the United States are warming up to the technique of induction heating as well.
"Business optimism is sky high," says Trichka when asked about the sentiment in the market. "Companies that we have been trying to get a hold of, now are calling us. Lots of businesses are picking up and the latest monthly job report indicates 100.000 more jobs have been created than anticipated." Investments in crucial markets had been on hold for several years. But Trichka sees these markets, such as the automotive, mining industry, and steel are opening up and calling for quotations.
Automotive
Trichka has been with the company for over 12 years, so he has seen a bit of the market development for TM Induction Heating. "The mining industry has had it very hard, the last few years, but now we see new investments for the service industries, which is good for our business. And for the automotive business we learn that Ford and GM have decided to bring production back to the US because of anticipated tax policy changes. It is a tough market with a lot of competition and they use mainly mid frequency devices. We have had some requests from these companies and that in itself is a good sign." The new administration has given companies a one-time waver to repatriate their money back to the US. Trichka says taxes are being brought in line with other countries which makes producing in the US more attractive.
Wind industry
"A market where TM Induction Heating equipment is really in high demand is the wind turbines industry.
One of our customers, Vestas, is a market leader and they seem to be getting really busy. There is a lot of work needing done on the service side of the wind turbines industry and there we see a lot of new equipment needed. We have been quoting a lot of the bigger equipment recently." Booming especially is the subway carriage building. "New York City transit has built the subway carts for the New York subway. They have set up a traction motor rebuild shop and concerted the entire shop. They skipped ovens and switched to our products with special as well as standard heaters. They have a lot of visitors, professional and private, admiring their standards and we get very good publicity from that.  We seem to be becoming the new household name in that market," he smiles when stating this. "They are doing tests for others and recommend our equipment, so we are quite happy, they act as regular ambassadors."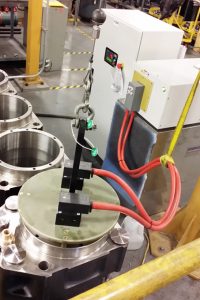 Rebuild shops
Another strong market Trichka sees for induction heating equipment is the Electric Motor Rebuild shops. "Quality is very important for this specific application. They have seen that our equipment is very reliable and robust. The heating is of a constant high quality and very securely controlled. This means a very low risk of damaging parts and a very predictable result of their activities. And from every new business we see immediate spin-off occurring. But because we have a dealer network, I sometimes do not even know for what specific applications our heaters are being used. Luckily all our dealers are well very knowledgeable so we don't have to worry."
Trichka says huge infrastructure projects are coming up. "These are now being taken on in public and private partnerships. People and companies have a restored faith in our economy and all in all we see a real boost for business. I am very pleased!"